Aeroplane Flying Lessons

All flights are regulated by the UK Civil Aviation Authority helicopter AOC

Terms and Conditions apply.
Insight to Becoming an Aeroplane Pilot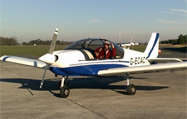 Approx 3.5 hours with 20 mins flying
Can be taken at 4 UK Venues
The Experience
Explore the first step towards your Aeroplane Pilot's License by experiencing this unique introductory package including a lesson in a 2 seater training aircraft. As part of your pilot training our instructor will introduce you to the dynamics of a fixed wing aircraft, and giving you the chance of hands on flying yourself!

Come and join us at our UK Wide locations for an insight as to what it takes to become a Professional Airline Pilot. Your hosts will be qualified pilots who have flown most aircraft from a Cessna to a Boeing in training and trans-Atlantic operations.

As the UK's largest flight training school networks we can give a unique insight as to what it's really like to be a pilot. One of the hardest parts of becoming a commercial pilot is securing the first job. Often you will hear an employer say "sorry you haven't enough experience", this is accepted, but until you get a job how are you going to get the experience?

Training with us offers many unique advantages to ensure your success as a commercial pilot, one of which is to break the experience barrier. After all if we have trained you we are happy to offer suitable candidates their first all-important freelance job. .
The Package
Option 1 –
"Let them choose" with an OPEN DATED Gift Voucher valid for 9 months. Click on BUY above. All vouchers are issued as Multi Purpose which can be redeemed with us for over 2,000 different Products, Experiences and Services across UK and Ireland. We will include your Suggested Experience for this package along with your Personal Greeting!
Option 2 –
"Pick a date now" by making a DATE SPECIFIC Booking for the Experience. View Available Dates.
For Group Discounts or Events please use the Enquiry Form or call 01753 643 820 (Mon – Fri / 09:00 – 17:30)
• Refreshments on arrival (Tea/Coffee)
• Pre-Flight Briefings
• Public Liability Insurance
• FREE Pilot Notes
• A Presentation on Airline Pilot Career options by a CAA Licensed Flight Instructor
• Hands-on 1:1 (20 min) Flying Lesson and General Handling
• Light Lunch (Buffet style or voucher for cafe/restaurant)
• A Guided Tour of the Hangers (where possible) and discussion about various aircraft types
• Small group size
• Experience will last half a day (allow approximately 4 hours)
• Signed Flight Certificate on Completion at most locations
• Counts Towards a Pilot's License
• Spectators are welcome and may take photographs
Restrictions
| | |
| --- | --- |
| Minimum Age | 12 |
| Maximum Weight | 102 Kg |
| Maximum Height | 1.98 m |
Please read Terms and Conditions of this Adventure before continuing
Show Available locations
Click

for more details